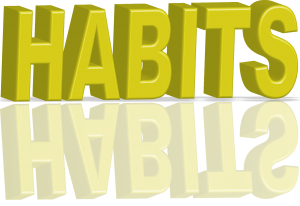 I don't know…yet. What I will try to do is be my own best test subject. Here are some things I want to do:
1.      Write something in my blog every day that consists of about 250 words. Right now, I have no idea what 250 words looks like, but I think it's the size of a decent letter to the editor, which should force me to edit for readability. It's easier to be long-winded than concise, but it's harder to get into the habit of writing every day.
2.      Get in the best shape of my adult life by the time I turn 60. That happens on May 2, 2015. That gives me a hair over 6 months to get the last of my excess weight off and get the fat percentage down. Currently I'm "normal" weight, but I'm overfat. I strongly dislike exercise, although I have enough equipment and DVDs to be very successful. I need to build the habit of working out and planning my meals better.
3.      Become a better cook. I've always enjoyed baking, but cooking has been something I do – not particularly well, but at least I don't burn everything anymore. I don't become sidetracked the way I used to – thanks to Sydney. She keeps me on my toes when I'm cooking. Besides that, I simply have never learned to use a knife or work through a recipe that requires using somewhat exotic ingredients.
4.      Learn French to speak conversationally. Our youngest son's significant other is French. Her parents speak about as much English as we speak French, so it makes sense to get better at French.
5.      Work on the house. Once we put on the new porch and decorated/furnished it, I really noticed how forlorn the rest of the house is getting. Sprucing it up seems overwhelming, so doing a bit at a time seems like a better plan.
6.      Get crafty again. I have 6 knitting machines and enough yarn to stock a small store. I have good sewing machines and enough fabric to stock a small store. I have enough ideas and plans to keep my brain and hands busy for at least 10 years. Now I just need to do something about it before I can't anymore.
So that's the plan. Work on 2-6 and document with #1. BTW, I'm over 250 words and hopefully haven't bored you to tears.